Tidligere har vi skrevet innlegget …certainly for Trondheim, der vi dro frem et sitat fra boken "Animal Spirits: How Human Psychology Drives the Economy, and Why It Matters for Global Capitalism" av George A. Akerlof Nobel-vinner 2001 og Robert J. Shiller.
Her kommenterte de at når boligprisene i Trondheim av alle byer hadde nådd, 1 million dollar så måtte det være noe spessielt på gang i boligmarkedet verden over.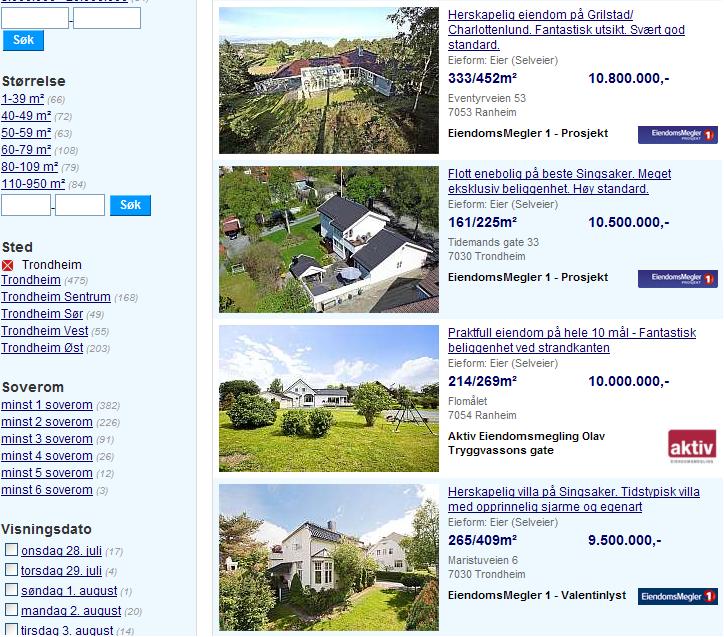 I dagens Adresseavisen skriver de om boliger i Trondheim som nå omsettes for rundt 10 millioner norske kroner (dollarkurs), altså langt over hva Akerlof fikk høre om i et bryllup for noen år siden.
«One of us (Akerlof) remembers a dinner conversation a few years ago. During the housing boom a distant relative from Norway – by marriage by marriage by marriage, known only from a brief encounter at a family wedding – had reportedly bougth a house in Trondheim, for more than $ 1 million. That seemed like a lot of money – perhaps not for New York, Tokyo, London, San Francisco, Berlin or even for Oslo – but certainly for Trondheim, up the Norwegian coast, on the edge of settlement, and vying for the title of most northern city. Nor was it a mansion. This thought remained quietly parked in Akerlof's brain classified along with other observations that property values were high in Scandinavia."
Tidligere har vi også kommentert hvorfor dette kan forekomme, selv i en by som Trondheim: